FAQs - Using Effects & Templates
Questions
Answers
How to disable transition effects?
If you don't like transition effects, you can disable them.
1. Click the Photo tab, and then click the Transition Effect tab
2. In the Transition Effects panel, find the "No Transition" effect, right-click the image, and choose to apply the "No Transition " effect to all images or selected images.
What are the differences between the Basic templates and the Advanced templates?
The flash templates in Photo Slideshow Maker fall into two categories: the Basic and the Advanced.
With the Basic templates, you will create slideshow with one SWF file, plus one HTML file. The SWF file is a stand-alone flash movie, you can move it to other folder, or send it to friends via email. View all basic flash templates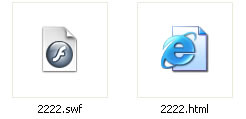 With the Advanced templates, you will create XML-driven flash slideshow. The XML-driven flash slideshow is much more dynamic than simple SWF + HTML flash. You can make comprehensive configurations to the project so to build up the very flash slideshow the way you want it to be. Advanced templates are very powerful if you use them to build photo flash gallery. View advanced flash templates

This kind of flash requires data source folders and assets to display properly, SWF, HTML, XML, image folder and thumbnail folder, and other components.
In this case, if you move the SWF file out of the folder, but do not change XML and other settings respectively, the SWF file will "Load Fail", that means it will not playback.
The SWF file cannot playback (load fail). Why?
If you use the Advanced flash templates to build slideshow, the SWF relies on XML data and other assets to display. If the SWF is moved out of the folder, which contains XML file and other assets, it possibly will load fail.
If you wish to create flash slideshow in a stand-alone SWF file, you may use the Basic templates.
For a solution to fix the "Load fail" problem when publishing to website, refer to
The flash slideshow "Load fail" after uploading to website. How to fix it?

How to remove the credits with your products name on it at the end of the flash slideshow?
We offer all users a free trial of the program, which has no functional limits, only with an credit message at the end of the flash slideshow.
You can buy a license to register the program. The credit message will be removed after registration.